I bought these so that I could plumb both brakes to one lever and have a Hydraulic Dual brake. There are two ports on each brake levers for a hose so it should theoretically be a simple matter of hooking them up and rebleeding.
It's a project I never got round to doing and they've been taking up space for at least a year.
They will come with Evo adaptors to mount to V-brake posts. (not pictured as I need to dig them out of their box.)
£50 posted.
I'm having a bit of a clearout and have been posting stuff on a number of different sites so if you're interested in these email me on
colinDOTwoofAThotmailDOTcoDOTuk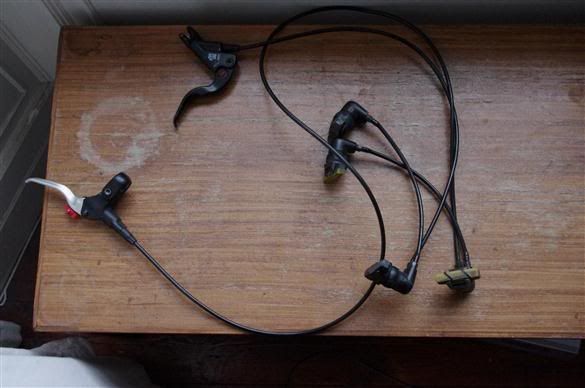 These were destined for a trials bike project. Superlight, grippy street/dirtjumping/hardpack tyres. Since the trials bike never got built these have sat doing nothing.
£35 Posted to your door
Anyone want a nice film camera? Realistically If I ever shoot film I'm going to use my other camera so this is never going to get used. Too nice to be a paperweight. Anyone want it?
I'm lookig for £100.
This is a lovely Canon A1 35mm Camera with one of the nicer F1.4 lenses attached (most of these only have f1.8's attached.) I've had about 15 rolls of film through this and it works beautifully. I'm sad to be selling this, but realistically I'm not going to get any more use out of it. I've got another film camera which will get all of the use due to it being less shiny.
It's got a new modern strap attached, has just had a brand new battery put in. I'll even throw in a roll of film for you.
Camera is good and can come with a battered looking but still very functional Canon case too.
Any questions please be in touch.